Missed the meeting? Check the highlights...

RANCH HOUSE COALITION GENERAL MEMBERSHIP PRESENTATIONS & REPORTS
Beaver Creek Community Development Corp Board of Directors call RHC Membership meeting for Sunday July 28th from 2:00 to 4:00 at the Beaver Creek Adult Center, 4250 E. Zuni Way.
The BCCDC Board advised that the Semi-Annual RHC meeting held July 6th at the Ranch House was called illegally and therefore did not attend the meeting. The over 60 attending members were refused entrance to the building. Consequently, the meeting was held on the patio outside the restaurant in the rain. Board president, Maggie Holt, watched from her vehicle, reportedly to call law enforcement if anyone tried to enter the building.
Minutes of the meeting held July 6th click here...

A resolution for the reorganization of the BCCDC Board of Directors by removing current directors and officers and electing new directors and appointing a trustee to oversee the new Board was passed at the July 6th meeting. The Resolution was submitted and received by the BCCDC Board for placement on the ballot for voting at the SUNDAY JULY 28TH MEETING.
ALL MEMBERS ARE ENCOURAGED TO ATTEND THIS VERY IMPORTANT MEETING AND VOTE ON THIS RESOLUTION. YOUR VOTE CAN BE MADE IN PERSON, BY PROXY OR BY SUBMITTING YOUR ABSENTEE BALLOT.
ATTEND & VOTE IN PERSON: Sunday July 28th from 2:00 to 4:00 at the Beaver Creek Adult Center, 4250 E. Zuni Way.
VOTE BY ABSENTEE BALLOT: According to the Board's meeting announcement, final ballots will be available on July 25 for those unable to attend the meeting. You can call Janet Aniol at 928-592-2839 or email to BCCDCorporation@Yahoo.com for Absentee Ballots which must be emailed or mailed to PO Box 376, Rimrock, AZ 86335 and received no later than Saturday, July 27. Please call if you need ballot assistance. The Board will make a fax # available.
VOTE BY PROXY: Under BCCDC Bylaws as adopted April 15, 2010, RHC Members "in good standing" shall have one vote per paid membership for its represented Director being elected to serve on the BCCDC's Board of Directors and on any issue the membership votes upon. A Member may vote in person or by written proxy. There is no limit to the number of proxies an individual can be authorized to hold. Proxies are not transferable. The designated person cannot give the proxy to another person. CURRENT BOARD OF DIRECTOR MEMBERS CANNOT SERVE AS A DESIGNATED PROXY VOTER. Call Kala Pearson at the Ranch House Coalition number, 928 202-4916 or email RanchHouseAZ@gmail.com for more information and member numbers on file.
CALL FOR TRANSPARENCY
The July 6th Semi-Annual Meeting of the Coalition
at the Ranch House Restaurant
IS NOT CANCELLED - WE NEED TRANSPARENCY AND A SAY –
NOW MORE THAN EVER
The Coalition was built on TRANSPARENCY. From the very beginning, the Vision, Mission, Goals, Objectives and Accomplishments were discussed, accepted and posted. Coalition members, volunteers and investors were constantly involved with each phase of the Ranch House Coalition Project. There were few rumors since everyone always had access to project plans, costs, current status, and detailed information and to each other. In raising capital, signs on the fundraising efforts were posted. Emails and reports were sent regularly regarding step by step negotiations surrounding the purchase of the property. The Pro-Shop and RH Restaurant daily sales were documented and available for all to see. Communication through open meetings, newsletters, newspaper articles, websites and email was the norm.
What happened to change that? How did we go from a democracy to a dictatorship?
How did the restaurant and golf course become the private property of Janet and Maggie? When did it stop being a community owned and controlled asset? Why has the BCCDC Board allowed the blame game and personal attacks to replace open dialogue and cooperative problem solving?
There is no doubt that we all want what is best for the community. Many shared in setting its course. The community entrusted the BCCDC board to steer that course. If the recent negotiation for sale of the property is such a good thing for the community, why not conduct them in the light of day?
In addition to RANCH HOUSE COALITION Constant Contact notices, daily updates will be available on social media and www.RanchHouseCoalition.com websites providing links to constructive Member comments and information so please check them often.
Members are encouraged to submit their comments to RanchHouseAZ@gmail.com for publication.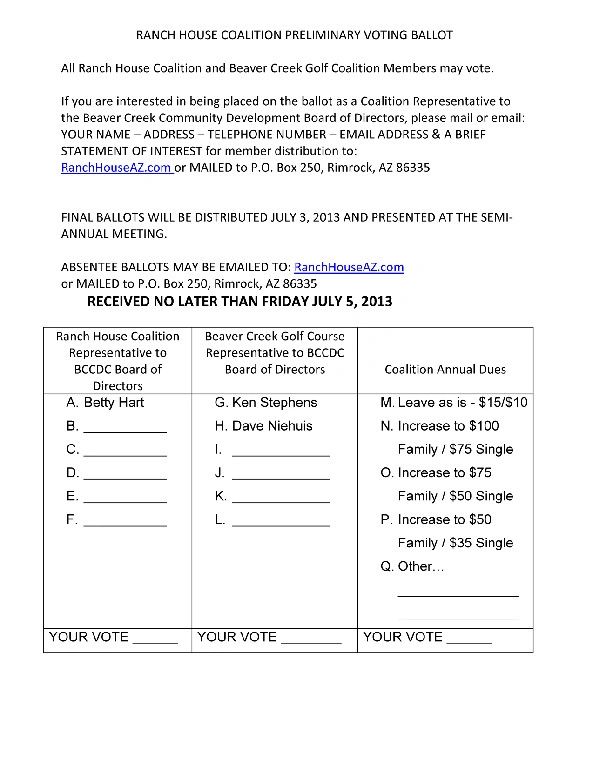 BEAVER CREEK COMMUNITY DEVELOPMENT CORPORATION
EMERGENCY BOARD OF DIRECTORS MEETING FOR RHC MEMBERS

Thursday June 20, 2013 – 5:00 p.m.
Ranch House Restaurant | 4250 N. Montezuma Ave. | Lake Montezuma, Arizona
MINUTES
Board Members Present: Gary Hilbers – Treasurer, Bill Smith -Director, Frank Greene – Director, Kala Pearson – Past President /Corporate Registered Agent - A BCCDC BOARD QUORUM FOR WAS NOT PRESENT
Board Members Absent: Maggie Holt, Janet Aniol, Sharon Brooks
Management Staff Present: Chrissie Hather – Chef; Mike Bruns – Facilities Maintenance Manager
Guests Present: Ranch House Coalition Members
The meeting was called to order at 5:15 p.m. by Bill Smith. Introduction of directors and meeting purpose was presented as per the agenda. Since a quorum was not present, the meeting was for informational purposes. Bill stated that there were a number of decisions being made on major matters by members of the board that were beyond their authority, believed to be not in the best interest of the corporation and the Coalition.
Financial reports have not been forthcoming to the board members present. Copies of the statements were not available for distribution and had only been provided to the present board members just prior to the meeting despite repeated previous requests. Coalition members requested access to current year financial statements for greater transparency for the restaurant and golf course operation. Kala advised that a 6 month financial statement, P & L and Balance Sheet would be available at the Ranch House Coalition Annual Meeting held in July and posted on the Coalition website.
Bill and Kala lead the discussion on potential partnerships and potential property sales. The following proposals were relayed:
Rob Witt of Camp Verde Realty and owner of the Beaver Creek Villas proposed an offer of $600,000-700,000 in exchange for the restaurant, golf course and water rights. Rob requested the support of the board in petitioning the AZ State legislature for separation of the water rights. His proposal was challenged by Bill Smith during a special board meeting out of concern for their intentions on the water rights and not sufficient to cover the corporation's liabilities.

Agape, Aqua & Harmony Group submitted a non-binding letter of intent to purchase the golf course, restaurant and water rights at $1.25 million with a 6 month due diligence period giving time to raise the funds. Board members Bill and Gary explained the details of the letter and their limited interactions with the proposing Group. Kala expressed her concerns regarding any sale to a water company and their intentions for the water rights.

Bill and Kala presented the results of preliminary meetings held with the Yavapai Apache Nation for golf course partnership or sponsorship and purchase of the golf course. Presentations were made to the YAN Council and the Nation's business development staff. Kala advised that the Nation's potential for a purchase may be limited due to their new venture obligations. However, there was favorable interest in a partnership or associate relationship in development and marketing of the golf course. They were extremely interested in the protection of water rights for the Verde River and its tributary Beaver Creek. Business and marketing plans, 2005 – 2007 operating financials and projected development costs for the golf course are currently under review by the Council and their staff. YAN advised that their review is expected to be completed by mid -July. Additional discussions and negotiations will commence upon completion of review.

Not much was discussed on intent or proposals from the group working with Ken Stephen's San Diego group as Ken was not in attendance to present the information. The group is said to be golf course developers. Ken was abruptly instructed by Maggie not to pursue negotiations since he was not a board member.
Discussion continued on water rights ownership and its attachment to the property. Concerns were expressed on the social and environmental impact on the golf course value, the Beaver Creek communities and the Verde Valley. It was generally agreed by Coalition and board members present that any sale or partnership should include assurances to protect the water rights of the golf course and the community.
The development of an improvement district with property assessment was discussed. Kala advised that a Coalition member (Brett Krippene) had volunteered to develop and work on a District committee and had prepared a presentation to the Coalition and community residents. Unfortunately, Brett was discouraged from pursuing this avenue by Janet and Maggie.
Bill announced that the board president and secretary had made the decision on Wednesday evening to close the restaurant the next day, Thursday, June 20, 2013. Staff had been advised of this with instructions to remove all food items and loaned artwork from the restaurant. Discussion followed on the qualification of board members and their authority to sell the golf course or close the restaurant. Kala advised that the board with Maggie and Janet on it is largely dysfunctional. She did not think that the board had the authority to decide on these significant matters without unanimous board approval and full disclosure, review and consensus from the LLC and Coalition members. Members present agreed and requested transparency in these matters.
Board members present proposed that the restaurant remain open with the intent to increase revenue and expand revenue sources. Changes to the restaurant operations, menu, cost reductions and expense deferment were discussed. Continued maintenance and development of the golf course was recommended. It was agreed that a plan to achieve these objectives should be presented to the Coalition and LLC membership. Kala advised that this be done at the Ranch House Coalition July annual meeting and at an emergency meeting of the LLC members as soon as possible. Kala advised that Walter Miller, Managing Member of the LLC had been contacted to call an LLC membership meeting within the next two weeks. Notice of both meetings should be distributed as soon as possible. It was generally agreed that additional experienced members of the board was needed and that all board meetings should be open to the Coalition members. Information on board and committee member resignation since February 2013 was presented.
Board members present suggested that a vote of No-Confidence be expressed by petition for removal of Maggie Holt and Janet Aniol from the Board of Directors. 85% of the Coalition members present agreed. A petition was circulated and signed by individuals representing 40% of the original Coalition members and several of the LLC members. Kala stated that several other Coalition members were contacted with the information provided but unable to attend the meeting. They held similar concerns and recommendations as discussed during the meeting.
A call for persons interested in serving on the board was made. Betty Hart expressed her interest on being appointed to the board. Ken Stephens communicated his interest in serving. Coalition and Board action on these candidates should be taken at the July meetings. Kala provided additional names of golf and finance professionals expressing an interest in the golf course development recent past and approachable for board membership. It was generally agreed that these potential board members be contacted and presented to the Coalition as soon as practical.
The meeting was adjourned at 7:00 p.m.
RANCH HOUSE COALITION MEMBERSHIP ANNUAL MEETING & OPEN HOUSE
SUNDAY JULY 22, 2012 - 4:00p.m. to 8:00p.m.
NEWLY RENOVATED RANCH HOUSE RESTAURANT

HAPPY ANNIVERSARY! It's been a full year since the Coalition legally acquired the golf course and restaurant properties. Now finally, the day we have all been waiting for… the opening of the newly renovated Ranch House Restaurant.
Featured will be a pre fixe $20.00 per person dinner buffet in the dining rooms and a cash bar in the new Rusty Spurs Lounge. Members are invited to tour the facilities, sample the fare and meet the staff. This will be a great opportunity to share your comments and make suggestions on how to further improve upon the facility.
Please RSVP at the Pro Shop - (928) 567-4487 by 7/18/12.
July 6. 2011
From member Lee Weller:
Hello Members & Volunteers,
We will have a kick-off gathering on the patio at the Ranch House on Friday, July 8, from 6:30 to 8:30 PM. If it rains on Friday, the gathering will be on Saturday, July 9.

Live music! Bring your own chairs & drinks as well as snacks to share. I have plenty of plates and napkins for the snacks. There will be dancing, celebrating, telling stories about the Ranch House, Golf Course, or the Community. Just a get together to start things off.
See you there,
Lee
November 22, 2010
Ranch House Coalition Votes to Proceed...
After last Monday's Coalition Membership Emergency meeting, the advisory board (Core Action Team) met to develop and review a course of action. It was decided that the best approach was to go ahead with the initial plans for the restaurant, albeit broadening the fund raising efforts through the development of a CD secured loan fund with the local bank to handle the down-payment of $100k.

Also decided was to develop a special golf task force whose job it would be to come up with a plan for the golf course (use and financing). A separate membership program will be established for those people interested in just the golf course as a golf course – separate and apart from the Ranch House Restaurant. Although under the same Coalition umbrella, for now, it is geared towards golfers and corporations.

Additionally, the lack of maintenance of the golf course and the lake is a big problem for the people owning property in Lake Montezuma. Suggested was a voluntary assessment of $50.00 per year instituted by LMPOA to its members under a Lake Montezuma Beautification Program. This fund can contribute to the maintenance of the golf course and the lake as people in the area will need to take a little responsibility for keeping it maintained to a level of safety. LMPOA will be working on this over the next few weeks.

The CAT team voted to immediately engage legal counsel, Tony Cullum, to complete the negotiations and commence the necessary paper work to solidify the lease purchase. A new membership brochure outlining the membership level is being published for general distribution. See DRAFT Brochure...

Ranch House Coalition close to deal on restaurant, Beaver Creek golf course
By Steve Ayers
Staff Reporter CV Bugle
Tuesday, November 16, 2010
After carefully scrutinizing details, members of the Ranch House Coalition unanimously agreed on Monday to continue negotiations on a lease-purchase offer from the owners for the Ranch House Restaurant and golf course.
BEAVER CREEK - Six months ago, residents of Beaver Creek formed the Ranch House Coalition in an effort to save their beloved restaurant and, if possible, their golf course.
At the time, they made a proposal to the property owners, Seth Williams and Rob Shabatka, to lease the restaurant with an option to buy.
That offer was rejected, as were attempts to assume control of the golf course.
However, much has happened since May as far as developments and developers around the Beaver Creek golf course.
The financial morass that has taken the place of sand traps and water hazards is driving the two parties closer to a deal.
A few weeks ago, Williams approached former Lake Montezuma Property Owners Association Secretary John Mackler and asked to resume discussions. Mackler has facilitated a series of meetings resulting in what RHC Chairman Kala Pearson has described as the first serious offer.
It is not all that different from the original offer made last May.
The offer includes a five-year lease with option to purchase on the restaurant and/or the golf course. The price of the restaurant is $500,000 with an additional $700,000 for the golf course property.
It also allows the current owners to sell the property during the five years, with a first right of refusal for the Coalition. It is an "as is" deal and contains a clause reimbursing the coalition its $100,000 down payment and up to $200,000 of improvements if someone other than the coalition purchases the property.
By a unanimous vote on Monday, 40 or so members of the Ranch House Coalition decided to "move forward" with the offer, further negotiations and fund-raising.
Future negotiations will include raising the reimbursement for improvements above the $200,00 offered, along with extending the phasing in lease payments, currently delayed for the first four months while improvements are being made.
The signing of a lease is set for Jan. 1, 2011.
"It's a pretty short window of time to raise the $100,000, but it can be done if we choose to get it done," says Pearson.
Pearson says the next step will be to begin raising money, then hire an attorney to help draft whatever final agreement is reached.
"Originally we had pledges for $30,000. We think those are still valid. We will be looking at new levels of membership to cover the golf course, a series of loan programs and possibly the issuance of bonds.
"We will be looking at an all-encompassing financial package, including selling cookies if necessary - a lot of cookies," says Pearson.
In addition to the down payment, Pearson has estimated the group will need $100,000 to renovate the restaurant and $30,000 in miscellaneous expenses.
RANCH HOUSE COALITION MEMBERSHIP EMERGENCY MEETING
MONDAY NOVEMBER 15TH - 9:00 A.M.
BEAVER CREEK ADULT CENTER – LAKE MONTEZUMA
During the past weeks Kala Pearson and Seth Williams, facilitated by John Mackler, have revisited the original offer made by the Coalition for a lease purchase agreement for the Ranch House Restaurant and the golf course. We have developed a proposal that may be acceptable to all parties that needs the membership's immediate ratification in order to move forward.
Below are the main points of the proposal.
· Proposal covers RANCH HOUSE RESTAURANT PROPERTY including all out-buildings and the GOLF COURSE ACRES
· Lease for 5 years AS IS
· $100,000.00 Down Payment
· $3,000.00 per month rent, plus Taxes, Insurance, Utilities
· 4 month grace period before lease payment
· 1st Option to Purchase
· Improvements at COALITION Leasee Expense
· Coalition Leasee has full water rights
· BCL&W Leasor has option to sell property during 5 year period
· $100,000 down payment would go toward purchase or if property was sold to third party it would be refunded to lease
· If property is sold to 3rd party – BCL&W Leasor would reimburse COALITION Leasee $200,000 for improvements
· Purchase price set at $1,200,000. Optional owner carry of the note at 7% interest
· If COALITION Leasee wishes to only purchase Ranch House building, pro shop building, rest room building and equipment yard and building the price would be $500,000
· Clause in the lease agreement to be canceled before 5 years with 60 day notice
· Clause in the lease agreement that COALITION Leasee can sub-lease the restaurant and/or the golf course during the lease period
· Lease signing and down payment by January 1, 2011
If this offer is agreed to by the members of the Coalition, we will need to have all hands on deck to raise the necessary capital for the down payment within the next 45 days through memberships, fundraising events and private investments. All pledges must be collected and additional membership and community investors recruited during this time period.
Additional capital for renovation will also need to be raised during this period and shortly thereafter. The original figure calculated for renovation of the restaurant only back in June was $130,000. A plan and projection for the golf course will need to be developed.
If you cannot make this meeting, please email your comments, concerns and vote to MEMBER@RANCHHOUSECOALITION.COM
Thank you for your continued support and interest.
RHC General Membership Meeting - September 22, 2010
DISCUSSION:
Condemnation – County should consider eminent domain
Consider hiring golf course development consultant:
McMahon Group – Initial visit – free for transportation: car rental, lodging, etc. est. $500 -
golf course consultation:
· Cash flow plan
· Business plan
· Professional help
· Review of sales
· Market survey
· How is sustainable
· Zoning, water rights, endangered species
· Budget & operation, structure, staffing
If consultant hired - need to set specification – minimum of what we want
Need current appraisal – bank will need to order appraisal
Donation of time & labor should be considered in plan
Advertising and marketing needed for course
Check U of A Extension, NAU, other area resources for help – agricultural, historic
Request appraisal of properties from County
BCLW Attorney will receive offer packet and present to owners – must be cash deal, don not want to carry
DIRECTION REVIEW
Finance options being considered include:
· Creation of a special improvement district for purchase and maintenance or just maintenance
· Explanation of ad valorum tax VS assessment
· Elements of creating a district
Combination of private financing, bank loans and/or the issuance of a private bond for purchasing and small CID for maintenance.
· Private bond – doesn't need collateral – needs cash flow to pay debt
· Developers in area – contribute to improve their assets
· Bank loan – 80% government backed (USDA)
· Volunteer barn-raising – restoration
· CID = for maintenance
OUTCOME:
One group will be visiting with those who made financial pledges of support of almost $30,000 to begin collecting those pledges. (MaryAnn to head up with letter and contact committee)

A second group will begin gathering information so an educated estimate can be made of how much it will cost to resurrect and maintain the golf course, should the group successfully acquire the property. (Richard Eiting – to head up using NAU contacts & students)

A third group will begin sending out letters to all 5,000-plus homes in the Beaver Creek community to give everyone an update on the status of the golf course, explain the options for purchasing and maintaining the property, to solicit support and get a feel for how the community feels. (Merrily and Walt to head up – they were not present but follow-up needed on exactly what the letter would contain / the group mentioned that someone at the Sept. 15th meeting volunteered to pay the postage for the mailing)
Cheri Daniels will coordinate the writing of proposals and business plan. All options will need to have this to present for financing.

Next meeting will be scheduled after letters are ready for mailing.

RHC General Membership Meeting - September 15, 2010